At GFL we have embraced the United Nations' Sustainable Development Goals as part of our corporate governance system. 
2030 Agenda for Sustainable Development, adopted by all United Nations Member States in 2015, provides a shared blueprint for peace and prosperity for people and the planet, now and into the future. At its heart are the 17 Sustainable Development Goals (SDGs), which are an urgent call for action by all countries. They recognise that ending poverty and other deprivations must go hand-in-hand with strategies that improve health and education, reduce inequality, and spur economic growth – all while tackling climate change and working to preserve our oceans and forests.
In integrated production systems the products, by-products or services of one component of the system serve as a resource for the other production component (horizontal integration); and scarce or degraded natural resources are efficiently allocated over space (vertical integration).
The Food and Agriculture Organization of the United Nations (FAO)
COMPANY
Health and safety is forefront at our factory
. Ergonomic environments with large spaces for employees.
. Air-conditioned departments, which are highly insulated and heated for the most part, through recovery of thermal energy from an air compressor (reduction of gas consumption due to energy recovery).
. Healthy air with air exchange.
. Fume extraction system for PET production machines.
. Routes are divided between pedestrian and forklift.
. Anti-slip floors and maximum reduction of cables on the ground.
. Raw materials available for machines in a safe area away from forklift trucks.
. Suspended ceiling with high noise reduction.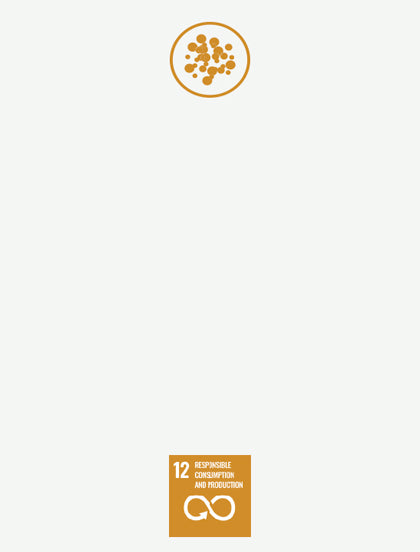 COMPANY
No Micro plastics
Due to the "single use plastics" directive we do not use micro plastics in our products such as body exfoliators or cotton buds.
. We have replaced our TNT towels made of plastic with a natural fiber that is made from natural sources called "viscose".
. For accessories: we have removed or replaced plastic inner bag with FSC recycled paper bag.
PROCESS
Water / Energy reduction
. Important insulation for productive air-conditioned areas and offices for drastic reduction of energy consumption.
. Heat energy recovery of compressors for space heating.
. Low water consumption in our factory:
1. All cooling circuits with closed cycle.
2. Filling machine with washing system designed for micro water consumption.
. Led only lighting (Production, offices, internal and external warehouses.)
. Very limited gas consumption
PROCESS
Machinery efficiency
. Choice of machinery and the most efficient layouts to reduce consumptions.
. Production internalization.
2017 - 2018
. Replacement of 3 traditional pump machines with full servo pump
(-60% electric consumption).
2019
. Installation of a new Injection blow mold PET line /full servo pump
(-60% electric consumption).
PROCESS
Secondary packaging
. We have chosen to minimize as much as possible the environmental impact of our transport packaging increasing recycling rates for carton waste.
. We can now offer clients all our carton transport packaging with FSC certified products to ensure responsible management of forests and the growth of new trees.
RECYCLED paper transport packaging rate.
PRODUCTS
Our Eco-design pillars
1. To continue to develop products with impact and bring our lines from linear to circular design:
Introduction of post-consumer materials, ocean plastic, the selection of local suppliers, internalization of production.
2. Choosing products with less environmental impact.
3. Reducing CO2 emissions by reduction in consumption of water, gas & electricity.
4. Compensate our CO2 emissions for products as far as possible.
5. Studying products to optimize pallets, (epal stackable minimum 90% truck filling).
PRODUCTS
Post- consumer recycled materials
Recycling is a solution to consider on two sides, as a recycled plastic and as a recyclable plastic, resulting in:
. Using less energy and therefore CO2 to recycle than to produce.
. Calculation of the value of the material to be recycled and then collected from the environment.
This is a highly evolving market that requires close monitoring.
We are constantly searching to find the best green technologies to reduce the impact of our products.
PRODUCTS
Circular packaging
GFL has developed a set of new materials and initiatives that strive to create packaging that complies with the new concept of the circular economy. We are proud to use the packaging circular index by the Ellen Macarthur Foundation to reduce our packaging impact on the planet.